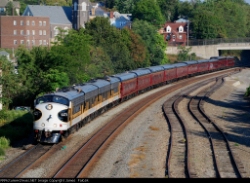 Welcome to the RRPictureArchives.NET contributor site of James Falcsik.

Greetings to all who visit here. I have been stomping around the western PA area taking railroad photos since about 1976 when I used a 110 Kodak camera. You will probably not see any of those shots here from the very early days, but you will find pictures from 1980 to the present, primarily of the area east of Pittsburgh on the old PRR mainline, and several other railroads local to this area. I make yearly trips to Meadville, Altoona, Harrisburg and a few others so you will find those areas represented as well. As I find an acceptable way to make quality scans of my early subjects those will be posted in greater volume. Enjoy the pictures and feel free to comment.

You may browse my collection of pictures via the menu located on the left hand side of the page. I hope you enjoy the collection and thanks for stopping by!
Note: This site is best viewed in Internet Explorer 6.0 or above.
Select one of the links from the menu on the left to begin browsing the collection.